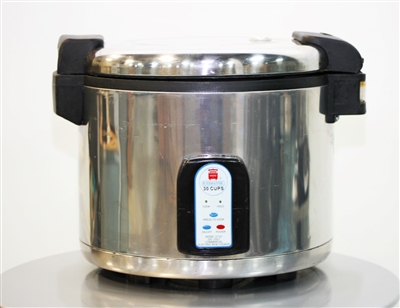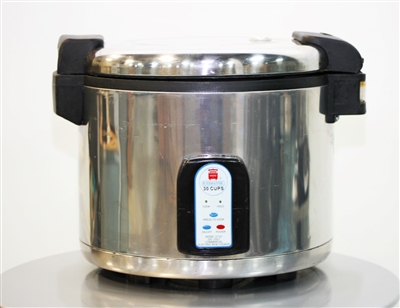 Item:
PRODUCT DESCRIPTION
Units have a hinged cover that will cook, hold and function as a serving unit.
Durable 20 gauge stainless steel body is dent resistant and easy to clean. The riveted internal cover stays secure. High impact hardware, American made industrial components.
Hi limit prevents breakdown if the unit overheats. Cooking is completed without damage to the rice cooker.
Illuminated touch controls and indicator lights. First touch the ON/OFF button and the unit turns on in the warm mode. Both the power and the warm indicator lights will be illuminated. A touch to the PRESS TO COOK button starts the cook cycle. The warm light will go out and the cook light will illuminate. When the rice is cooked the cook light will go out and the warm light will illuminate, indicating the rice is cooked. Unit stays in warm mode until turned off or another cook cycle is started. Touch the power button at any time to turn the unit off.
Automatic Cook and Warm operation. Touch the button, walk away for perfect rice every time an electronic sesor in the heater plate detects when the water has been absorbed. This will end the cook cycle at the right time. Rice Master switches to Warm automatically when cooking is done. Rice will be held at an NSF compliant 50º F+. Holding time should not exceed 12 hours.
Vented cover with condensate collector–The cover vent lets steam escape. A condensate collector below the hinge traps escaped water to keep the unit and the counter clean.
Removable 1⁄8" thick rice pot resists dents, removable for rinsing rice and washing. Rice cooker capacity in Asia is measured by 6 ounce (by volume) cups of raw rice. Town Rice Masters use that standard.
Commercial ETL and NSF listed.
Large capacity. Electronic controls. Designed and built for commercial use.
Assembled in the USA with American made industrial parts.
SPECIFICATIONS
DOWNLOADABLE LITERATURE